The JLMS PTA will be hosting our fourth Walk-A-Thon on Friday, September 20, 2019, from 2:30 – 3:30 p.m.  The course is a 1-mile loop around the school property with a Walker Lane as well as a Runner Lane.  Panther pride with every stride!
This is our one and only fundraiser for the year!  We are asking for flat fee donations so students don't have to go back to tell people how many laps they have completed.  All donations are tax-deductible.  Packets will come home from school on Friday, Sept. 6, or make a donation at the PTA website JLPTA.org.
PRIZE LIST:   $25=shave ice at lunch         $50-=Bag o' candy  $75=Golden PE Ticket (Get out of running mile/pacer  $100=Jason Lee T-shirt    $150=$10 Dutch Bros Gift Card    $200=Jason Lee Sweatshirt  $250= pizza lunch in conference room for you and 3 friends $500=Amazon Fire Tablet or $50 Amazon Card  Top Earner=Night at Great Wolf Lodge for four
PRIZE RAFFLE:  For every $25 brought in, you will receive one raffle ticket for the prize raffle which will include a night at Great Wolf, Timbers Tickets, an autographed Damian Lillard T-shirt, a drone, a gift certificate for a pedicure and much more!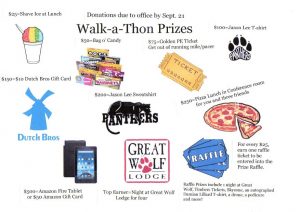 If you make a donation through the website, don't forget to include the student's name!  We want to make sure that everyone gets credit for all the donations they bring in!
THE PTA COULD USE YOU!  PLEASE SIGN UP TO VOLUNTEER!