The 8th grade Celebration is the last day of school–June 19, 2019.
If your student would like to participate in the "knockerball" activity or "bubble soccer" activity, they need to return the waiver below signed by a parent to the front office or bring it with them to the event.  Thank you!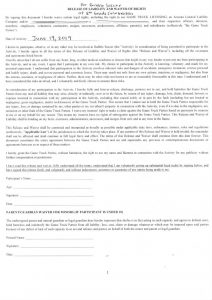 Upcoming volunteer opportunities are listed below.  If you can help, please email jasonlee.pta@vansd.org.  Your help is greatly appreciated!  To sign up for any of the following opportunities, click on this link:
Stuff Back-to-School Packets–Aug. 22
The PTA will be stuffing Back-to-School packets the morning of Wednesday, Aug. 22 from 9 to 10 am.  Many hands make light work!  
We would love your help as well as the help of your kids, 6th grade and up!!  
CAMP 6–Aug. 22, 8:45 to noon
Schedule Distribution–Aug. 27 and Aug. 29
Come help pass out schedules to students as they arrive at the "Meet and Greet" on Monday, Aug. 27 from 5:15 to 6:00 pm.
Or come help pass out schedules to students the morning of the first day of school in the den–Aug. 29 from 8:30 to 9:00 am.
The help of parents and older siblings would be great!
I-Pad Distribution–Sept. 4,5
We need your help to pass out I-pads on Sept. 4, 5.  Can you help from 9-10 am?  10:45 to noon?  or 12:45 to 3:00 pm?  
Email jasonlee.pta@vansd.org or click on the following link to sign up:
PTA meeting dates for 2017-18:
Thursday, Sept. 13 from 7-8 pm          Monday, Nov. 5 from 9-10 am
Thursday, Jan. 10 from 9-10 am       Monday, March 4 from 9-10 am
Tuesday, May 14 form 7-8 pm
Meetings are in the media center
For volunteer opportunities throughout the school year, see the flier below.  Please email JasonLee. PTA@vansd.org if you are interested in helping with any of the events listed.